Washington Supreme Court Justice and longtime Indian fighter James M. Johnson announced his retirement from the high court last week.  For Indian law court watchers, Justice Johnson's departure adds more excitement to an already dynamic time for the Court in terms of Indian jurisprudence.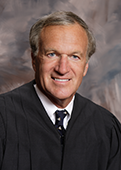 The recent voting record of the still-seated Washington State Supreme Court Justices in Indian cases, reveals some patterns for the justices:
| | | |
| --- | --- | --- |
| Case | Pro-Tribal Interests | Anti-Tribal Interests |
| Wright (tribal corporate sovereign immunity) | Madsen, Owens, Fairhurst | C. Johnson, J. Johnson  |
| Eriksen (tribal detention of traffic offender in fresh pursuit, off reservation) | Owens, C. Johnson | Stephens, Wiggins, Fairhurst, Madsen, J. Johnson |
| Jim (tribal jurisdiction over Treaty in lieu sites) | Owens, C. Johnson, Fairhurst, Stephens | J. Johnson, Madsen, Wiggins |
| AUTO (tribal indispensability to third-party fuel compact challenges) | Madsen, Owens, Fairhurst, González | C. Johnson, J. Johnson, Stephens, Wiggins |
| Clark (state search warrant execution in Washington Indian Country) | | Unanimous (Fairhurst Opinion) |
Wright, AUTO and Jim best illustrate the very narrow split on the court when it comes to tribal sovereignty rights, with the Court's most firmly conservative and anti-tribal (or as my colleague writes, "regressive") position, prevailing in three out of the last four Indian cases.
While cases are not decided based on whether there is a tribal litigant on one side, appellate court judges do seem to develop voting patterns where Tribes are involved.  As you can see, Justice James Johnson has not surprisingly consistently ruled against tribal interests. Justice Wiggins seems squarely anti-tribal too.
Whoever Governor Inslee appoints to replace Justice James Johnson in May, who would then be up for election in November, stands to flip or maintain the Court's recent anti-tribal position. In addition, Justices Charles Johnson, Fairhurst, and Stephens are up for reelection this year.
Justice Fairhurst has generally sided with pro-tribal majorities with the exception of criminal jurisdiction cases.  Her predisposition against tribal criminal authority was perhaps most clear during oral argument in Clark, when she expressed concerns in connection with Indian Country could serve as"an asylum for fugitives from justice."  That is consistent with her positions in the Eriksen saga, which seem based mostly on a nuanced read of criminal procedure.
Justice Fairhurst's reasoned dissent in AUTO was correct in observing, "[u]nder a proper CR 19(b) analysis, the Indian tribes are indispensable parties and they will be severely prejudiced by a state court judgment rendered in their absence. Because the majority incorrectly holds that the tribes are not indispensable parties, it seriously undermines the doctrine of sovereign immunity and weakens the law."  So whatever opposition to tribal interests Justice Fairhurst showed in Clark and Eriksen are tempered by her dissent in AUTO.
Justice Stephens sided with the anti-tribal bloc in Eriksen and AUTO, which she authored.  As a former plaintiffs lawyer, her decision in AUTO appears to stem from an interest in advancing litigants' right to sue.  She did after all side with tribal interests in Jim, which recognized tribal jurisdiction over tribal treaty fishing sites.
Justice Charles Johnson has twice voted pro-tribal, in Eriksen and Jim. He came down against tribal interests when he dissented in Wright – sort of.  While it may have been concerning at the time, he simply found to many factual discrepancies to hold that the tribal corporations at issue constituted "tribal entities."
All of this recent Indian history in Washington's high court goes to show that the four seats in play this year, most notably Justice James Johnson's, are crucial to the protection of tribal sovereignty interests in Washington State.
Next Justice Elections

2014 Charles W. Johnson, Justice

2014 Mary E. Fairhurst, Justice

2014* James M. Johnson, Justice (position through 2016)

2014 Debra L. Stephens, Justice

2016 Barbara A. Madsen, Chief Justice

2016 Charles K. Wiggins, Justice

2018 Susan Owens, Justice                      

2018 Steven C. González, Justice

2018 Sheryl Gordon McCloud, Justice
Anthony Broadman is a partner at Galanda Broadman PLLC.  He can be reached at 206.321.2672, anthony@galandabroadman.com, or via www.galandabroadman.com.